I am having hard time fixing galaxy themes feature..
I have two phones, both Samsung, currently I'm using Samsung Galaxy note 9, other phone is Galaxy A51
On A51, my themes are working fine
But Note 9 is not even showing themes on the store, only free ones, I've purchased premium themes, but now they don't show on my phone despite me uninstalling the update and installing it again then playing with the settings in order to make it work, but nothing worked, even in Top Designers, I pick a designer whom sells premium themes, it shows they have no theme at all, but if I go pick the same designer using A51, it's working just fine, I can see all the themes purchased and downloaded and on the store...
Can anyone help me fix this issue???
Thank you x
Hi, did you try changing the option highlighted in the below screenshots?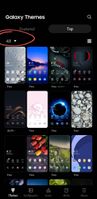 Hi
👋
. I have the same issue, but I can't open the Galaxy Theme app at all, and even the apps settings page won't open. What shall I do to fix this issue? Do you have any idea?
Appreciate it
🙏
Hello! We are very sorry for the inconvenience caused, first make sure that you are logged into a Samsung account, and kindly try to check the below steps in order to solve the issue:
​
Kindly go to Settings - Apps - Galaxy Themes app - Storage - Clear Cache.
​
Make sure that the device is updated to the latest software from settings - software update.
​
And then try to do a soft reset for the device by pressing and holding the Power button and the Volume down button simultaneously for more than 7 seconds to restart it. This will Not delete any data from the device.
​
If the issue persists, kindly try to visit the nearest service center to check the device and try to fix the issue.