Since the last update. Grammarly is taking over my text corrector and there is no way to disable it.
I have it off as i am not intersted in it.
However, it keeps on shuffle all the test, deleting what i wrote and duplicating paragraph.
There is a bug that you should solve as i am really annoyed.
Thinking on moving to another platform.
This cannot continue as i keep on losing what is written.
I hope you can disable it in the keyboard settings
please refer to the screenshot
also please let me know if it's useful for you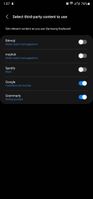 Wow didnt know grammley was option