Options
Mark as New

Bookmark

Subscribe

Email to a Friend
Hello my all community members,
I know these days due to this pandemic every one is facing a lot of issues ,many people left this universe but on the other hand many people also fight it and recovered.The most important thing we should keep in mind is that we dont have to panic.
Everything will be going to better soon only we have to keep patience.
I am posting it only for those people who easily get panic .Keep faith and take precautions properly.
This post was common as every one is posting such type of post.
Another one is Mental Peace as I am facing problem for 5 months I need a solution I was good at study but due to some incident,My mind gone blank and I am unable to focus sinch it has been gap of 6 month I am unable to concentrate feeling like going in depression ,
Should I continue my study or drop it for mental peace??
Need better suggestions plz help
Options
Mark as New

Subscribe

Email to a Friend
Don't drop your study. Wake up early in the morning. Do some meditation and yoga to keep your mind calm.
Options
Mark as New

Subscribe

Email to a Friend
Don't take loads brother..
Just start your studies from the beginning without taking stress. Don't waste your precious time on thinking that you've wasted your 5 months, just start from the very beginning and keep rocking.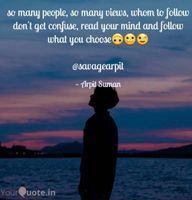 Options
Mark as New

Subscribe

Email to a Friend