Options
Mark as New

Bookmark

Subscribe

Email to a Friend
Hello People. Finally it seems my Note 9 is playing havoc. It reboots often while charging and sometimes by itself. I feel its heating a bit too.
I know there is nothing much I can do but wait for iPhone 13 launch.
Yes you heard me right, this is my first and maybe last Android phone.
It gave me good service, but lately its a Hassel of rebooting.
Only solution is to take backup and factory reset, maybe it may correct things but there is no guarantee.
I too am one of those hating the Exynos chipset which has created heating issues, slow operation, laggness , and reboots.
Anybody have some inputs to solve this may put their comments. CHEERS
😉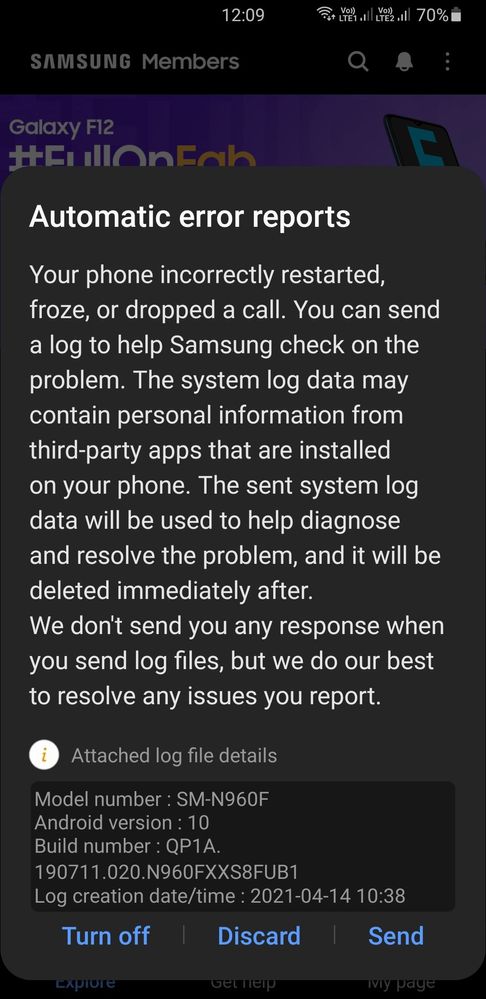 Options
Mark as New

Subscribe

Email to a Friend
But if it not generates automatically then some method of finding it manually?
Options
Mark as New

Subscribe

Email to a Friend
Crazy I can't even take backup with smartswitch to my mac. The moment usb cable is plugged, half way through the phone reboots. Continuously my phone is rebooting. I guess I have to just factory reset on phone by saving some backups.
Options
Mark as New

Subscribe

Email to a Friend
Finally after taking manual backup of required folders I reset to factory default. The phone does nor reboot anymore, the battery life is better and all is good and joy.
However. Let me tell you all I spite of auto feedback to Samsung with log files they didn't help or respond in any manner. A worst bunch of imbecile and a pathetic department just to put dust into your eyes.
So people do not depend upon these bunch of chariots and MORONS.
😛