Hi Members,
Hope everyone is safe. This is the third and final part of the post on this topic. You can read the first https://r2.community.samsung.com/t5/Galaxy-Note/Easy-Sharing-Part-1/td-p/8094147 and second https://r2.community.samsung.com/t5/Galaxy-Note/Easy-Sharing-Part-2/td-p/8122752 posts from these links.
Samsung Flow
This is one of the most used features in my phone, unlike other methods, your PC and Phone must be paired together to use Samsung Flow. To pair, open Samsung Flow in both the devices and follow the on-screen instructions which will take less than 5 minutes. Once paired, you can transfer data instantly and pairing is a one-time process. Samsung Flow can not only transfer files but also show notifications on your PC and can even mirror your device to PC and can control your phone with PC. Let's check the file-sharing feature now and keep the remaining topics for another post.
We can share the files in 2 different ways. One is by tapping the share button and selecting Samsung Flow. The file will be shared immediately to your PC.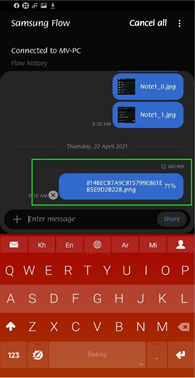 The next method is by opening Samsung Flow on your mobile device and pressing the + icon. It will bring up a share option with which you can select the desired file to be transferred. The transfer will commence immediately once you select the file.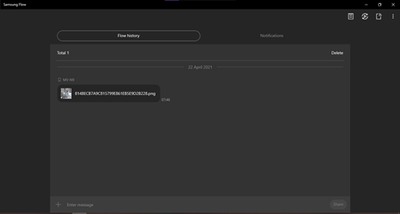 With Samsung Flow, you can share files even if your PC is not near to you. Simply share the file using any of the 2 methods and the device will keep the file in the queue. Once the devices come closer, the transfer will take place automatically.
Which method is your favorite? Please mention this in the comments.
Thanks Ambassador for sharing this super helpful guide!