Couldn't connect to Samsung Note10 5G Phone to " S Pen " Please Tell Me , How To Connect Samsung Note10 5G Phone To " S Pen "
Samsung Note10 5G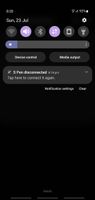 Hi... Same thing happened to my Note 10+ twice by now. Now I'm using the 2nd spen and it also got affected by the issue. Based on my research, this is happening because of the failure of battery in the spen ( technically, the capacitor) Because of that, spen not be available to power up and connect with the phone. The only solution is to replace the spen. But before that try to reset your Spen and make sure it's not a software issue. (Open air actions > click on the 3 dots > reset S pen)
However, still you can use all the basic stuff from your s pen without air actions
😀
If my comment is helpful to you in any way, consider to select the Accept Solution by clicking on the 3 dots of the comment.
Thank you
😊