Not sure if Samsung will read my post but hopefully they will.
To be honest I don't like the idea of there's no more Note series.
The Note is one of the main reasons for many people to be Samsung fans, this mobile since ever was always the best and make us proud and confident when we use or talk about mobile phones in general.
The concept of the mobile itself is amazing, that professional boxy high end phone it shouldn't be killed that way.
How about to make a survey about the phones including the folds and see what the people want.
I have Note 20 Ultra, and trust me if I'll have to change it for any reason.. I might go for another brand.
Hopefully Samsung will bring back the legendary Note again.
I just a news on sammobile which says Note series is in works. But no confirmation.
https://www.sammobile.com/news/next-generation-galaxy-note-milling-around-in-the-supply-chain/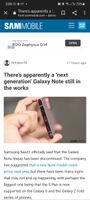 Hopefully it will be true and they bring it back.