Be aware! Be aware! Be Awsre guys!!!
Please do not waste you precious time at Samsung website its totally veru bad service which they are providing specially in GULF.
I place my online order of Samsung S22 Ultra model with promo code successfully even my order was in tracker but suddenly they cancelled it and start new promotion.
Infect after that i try to place new order and waste my time almost 3 days now but i am unable to place thw order. The payment system is not working.
At the end i tried to get help from the customer support through chat and call but they are totaly helpless they don't understand what to do and how to satisfy the customer.
Now after 3 days wasting my time i decide to approach another brand which service is better then samsung.
I home every beand is better then samsung according to place online order.
Please do not purchase online through samsung website it is my humble advice to all of you.
Thanks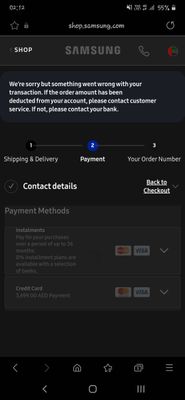 I bought my s22+(limited colour) from their website using promo code.. no issues for me..delivered on time. Did you get refund?
Yes with me also. I brought my mobile through Samsung website and I applied the Promo code. After purchased the mobile with the points I brought the charger.. for me it's good experience