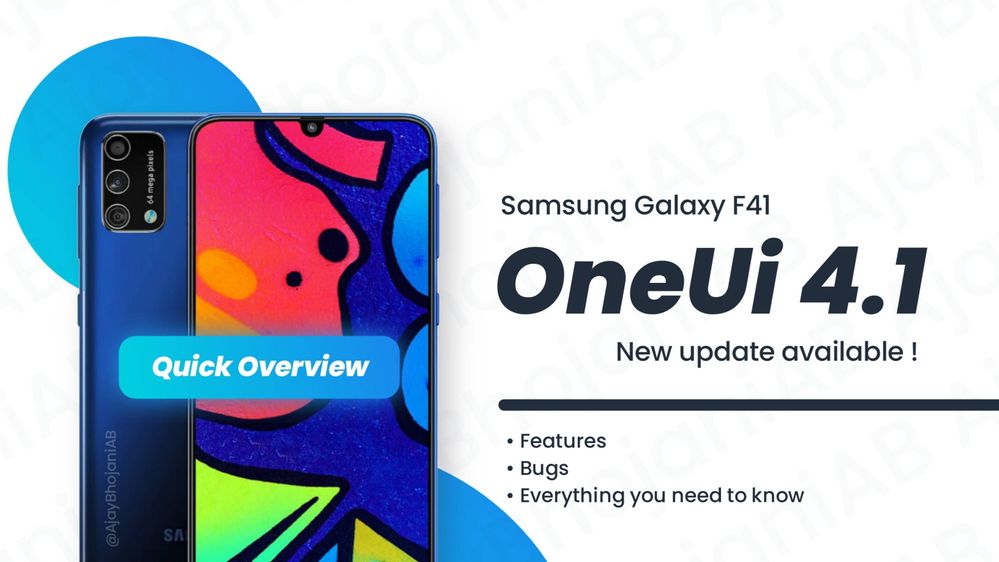 ☢ Software information :
•
🆕
Android Version : S(Android 12)
•
🔅
Build Number : F415FXXS1BVB7
•
🚨
Security patch : 1 March 2022
• ⬇ Update size : 1910.06 MB
•
🗓
️ Release Date : 03/05/2022
😍
Major update based on Android 12 and OneUi 4.1
🎨
Colour palette : Customize your phone with unique colours based you current wallpaper ( lockscreen or homescreen ) , this colours will applied to menus, buttons, backgrounds, and apps throughout your phone which supports monet (Google-Material-You).
💎
Privacy related updates : One UI 4.1 offers strong privacy protection to make sure your personal information doesn't fall into the wrong hands.
• Permission info at glance
• Camera and Microphone indicator
• Approximate location
• Switch from text to call
• More search results in message
• Easier search in My Files
• Enhanced edge panels
• Resizable Picture-in-Picture (PiP mode)
• Quick access to Pop-up window
• Quick access to GIFs, emojis, and stickers
• Animated emoji pairs
• Even more stickers
• Writing assistant
📺
Home screen & Lock screen
• New widget design
• Easier widget selection
• Listen where you want
• Voice recording
• Calendar and schedule at once
📷
Camera : Enjoy a simpler layout while you take pictures and videos. The scene optimizer button only appears in Photo mode if there's low light or you're scanning a document. Portrait and Night mode settings are now tucked away and more intuitive.
• Lens and zoom
• Video that never misses a moment
• Pro photography
• Enhanced scanning
🖼
️ Gallery : Whether you've got thousands of pictures and videos or just a few treasured moments, Gallery makes it easier to find what you need and keep your collection organized.
• Enhanced stories
• Easier albums
• More control over information
🎦
Photo and video editor : Sometimes your photos and videos need a few tweaks. One UI's Photo and Video editors are there to make your pictures look their best before you share them.
• Emojis and stickers
• Lighting control
• Highlight reels
• Never lose the original
🤓
AR Emoji : Use your own personal emojis to spice up your messages, make fun videos, and more. You can create a digital version of yourself, or try a different look. The possibilities are endless.
• Jazz up your profile
• Face stickers
• Dance the night away
• Design your own clothes
📍
Sharing : One UI helps you stay connected and share your experiences with others. Just tap the Share button in any app.
• Easier navigation
• Photo sharing
🗓
️ Calendar : One UI 4.1 makes it even easier to keep your busy life organized.
• Quick add events
• More search options
• Share with others
• Easier date and time selection
• Recover deleted events
🌐
Samsung Internet : One UI's fast and secure web browser now makes it even easier to find the webpages you're looking for and protect your privacy.
• Search suggestions
• Search from the Home screen
• Start in Secret mode
🏥
Device Care : See your phone's performance, security, and battery life at a glance, solve problems quickly, and get deep diagnostics for more complex issues.
• Battery and security at a glance
• Understand your phone's overall status
• Diagnostic checks
♿
Accessibility : One UI is designed for everyone. In One UI 4.1, you'll get even more options to help you use your phone in the way that's most comfortable for you.
• Always there when you need it
• Mouse gestures
• Adjust your screen at once
• Eye comfort
• Extra dim screen
• Customizable flash notifications
• Easier magnification
🤑
More features and improvements
• Better Always On Display
• Enhanced Dark mode
• Charging info at a glance
• Easier brightness control
• Safety and emergency menu
• Settings search enhancements
• Keep your eyes on the road
• Skip an alarm just once
• Day or night at a glance
• Switch from texts to calls
• More search results in Messages
• Easier search in My Files
• Enhanced Edge panels
• Resizable picture-in-picture
• Quick access to pop-up window options
🐞
Bugs : • I didn't found any bug yet but i will keep updating this article if i found anything.