Options
Mark as New

Bookmark

Subscribe

Email to a Friend
Samsung has worst biometric security.
I am using Samsung A51 mobile from 1 year,Samsung biometric not work currently it can'tc Recognise face ID and fingerprint.
Options
Mark as New

Subscribe

Email to a Friend
It may be your screen protector's fault.
In my A51 biometrics are working fine.
Options
Mark as New

Subscribe

Email to a Friend
bro try this...
since u have 3 option to add finger so...
1) remove all fingerprints
2) add ur right hand thumb and left hand thumb in same slot
and
3) leave the other 2 slots .....
4) turn off fingerprint animation....
5) go to setting optmise battery usage..> then in 2nd option their is optmise battery usage select it. >>then select to all... (se screenshot) >>>then search biometric and turn it off....
that's it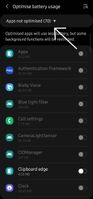 Dear Samsung Member,

Greetings from Samsung Customer Support!

Please perform the below mentioned steps to resolve the issue:
* To improve recognition performance, re-register your fingerprints.
For further assistance, register your concern in Samsung Members Application (Open Samsung Members Application > Get help > Send Feedback > Error report/Ask questions).

Thank you for writing to Samsung.
Warm Regards,
Samsung Customer Support