Hi guys can anyone help me with updating my Samsung Galaxy A8 ewallet. It keeps on freezing and also restarting everytime when I set it up confirming my pin it freezes and restart..does anyone know what could be the problem ? Your help will be highly appreciated
Hello, which ewallet are you attempting to download? Samsung wallet will not download as it is not supported by A8, even if you do download it, it will not run as the A8 doesn't have NFC to be able to use tap pay. If you are talking about Google wallet I don't know much about them, but I suspect it's a similar story, try Google assistance for Google wallet. Hope this helps!
Hi, Jared thank you for your feedback it's strange because I was using Samsung pay before it was changed to Samsung ewallet. Samusang pay I had added all my banking cards also loyalty cards and I have been using them since 2018, just this year around Feb I upgraded to Samsung ewallet and entered an incorrect pin that's when the issue started I had to uninstall the app and re-install it. I have added my card again just this part "set verification method" freezes on that step and restart..I will try the Google ewallet also try searching on Google. Thank you so much for your input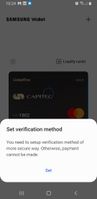 Cheers mate hope you win!