Options
Mark as New

Bookmark

Subscribe

Email to a Friend
Hello everyone.
Eventually, after two weeks, Samsung Customer Service replaced my Phone with a new one.i would like to Describe my Experience with the new Phone.
Now I have New Galaxy A51; my Phone has Android 10Q with Build Number A515FXXU1ASKJ. My previous GALAXY A51 had updated to A515FXXU1ASL6 that had a lot of problems with Bluetooth and WiFi.Because of my experience, I stopped updating the software on the new Phone. The Phone works perfectly without any problem. Bluetooth works without stuttering and keeps connection always.WiFi works perfectly, and the Phone never freezes or lagging. But my memory usage is unusual; in the last 24 hours, my average usage of memory is 3.5GB (60% of 5.8 GB available memory). You can see in this picture; six applications get around 2.4GB of memory in one day.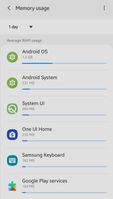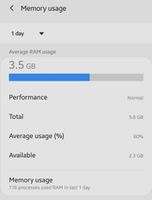 I think GALAXY A51 problems occur in new Build Numbers (A515FXXU1ASL6 / A515FXXU1ATA4). Thus, please do not update your Phone until Samsung solves problems in new versions.
Please, anybody, have Bluetooth issues; please write your 'Build Number' in comments. For finding your 'Build Number', you should go to the address below:
Setting > About Phone > Software Information > Build Number
Also, you can read about my problems with the previous GALAXY A51 in the link below.
https://r2.community.samsung.com/t5/Galaxy-A/My-problems-with-Samsung-Galaxy-A51-less-than-24-hours-...
https://r2.community.samsung.com/t5/Galaxy-A/Bluetooth-Issues-on-Samsung-Galaxy-A51/td-p/3353259
https://r2.community.samsung.com/t5/Galaxy-A/Galaxy-A51-Bluetooth-and-WiFi-issues-Causes-and-Tempora...
Options
Mark as New

Subscribe

Email to a Friend
hey, good to hear this is a software issue. hopefully Samsung pushes an update for this and fixes this.
how long did you wait before replacing your phone from the service center?
Options
Mark as New

Subscribe

Email to a Friend
Hi, my build is A515FXXU1ASL3 and I have had the phone 1 week. The bluetooth cutting out issue is driving me crazy. Is there a fix yet?
Options
Mark as New

Subscribe

Email to a Friend
Hi everybody
I just bought a Samsung A51 and yes you have guessed it. I have problems with Bluetooth.
Build Number : A515FXXU2ATA8
Everything worked fine until I connected the phone to my Mercedes E200 bluetooth . When making calls the sound breaks every few seconds which makes calling unusable.
I have using my car's bluetooth with all me previous phones i.e. LG G5 , Xiaomi Redmi 4, Huawei P30 - All worked faultlessly.
I have read that a lot of people are having problems with A51/bluetooth and from what I understand nobody has solved them!!!!
My question is if I take it back to Samsung and they offer a replacement is it worth it ? or the new A51 is going to have the same problems ? or should I ask for an exchange with A71 ? Does A71 has similar problems ??


I really do regret buying a Samsung phone which costs 360 euros and has an unusable Bluetooth.