Hi, The wifi of my A8 does not work well since two weeks ago. The signal is weak even if I stay next to the modem. See below and see how the test hardware says my WiFi is ok, which is not true.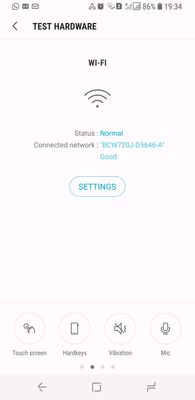 Other devices are connected to my modem without problem.
I have tried everything; from rebooting my A8 to factory reset and from rebooting the modem to resetting the connections. I have wasted a lot of time on Internet trying to fix my phone. This problem happens with all the wifi signals that I find. It is really frustrating, considering I just bought it last June.
I was really happy with my phone. Not anymore. Hope Samsung solve this problem ASAP.
for my galaxy a6 plus also have same problem...
sorry for that and you may have a serious problem like me. One of my device's antenna wifi is broken, according to a technician. To repair it will cost me around US$200. I will change device in June, so at least I use it for one year. And then never again I will buy a Samsung device. Good luck for you. Cheers.