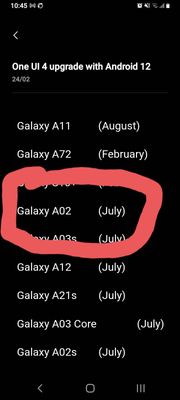 Is this device getting Android 12. Note photo taken from official Samsung members app. It states July. But 4 months have passed since. December would be the last possible month they could update it. All other devices have gotten Android 12 or 13.
Proof of the lie. Is attached after getting a hold of my local government consumer rights agency.


 So there it is. This email is from Samsung South Africa. The A02 will not get Android 12. I suggest as many people get in touch with official consumer rights agencies and file a complaint ASAP. Bait marketing at its finest.