On Android 12, September patch, I was getting 7 hours minimum SOT from 100 to 20 percent. After Android 13(December security patch), it has been reduced to 5 hours.
That's a drastic reduction of 2 freaking hours of screen on time!!
I already knew that they messed up the battery after the December update but never thought that it will be this worse!
Yes, I did send them feedback and error reports and received the mandatory copy-pasted BS reply.
Hoping to get the January update soon which MAY fix the issue. TBH I have lost faith in Samsung and wouldn't have updated if not for the 5g. Everything was smooth on Android 12, especially the battery life. A 2-hour plus reduction is not acceptable.
Nb: The reduction in battery life is happening when I am not on 5g. At this rate, I am afraid that the phone will have to be used as a landphone(full-time on charger)when I am on 5g.
Android 13 - 100 to 20 percent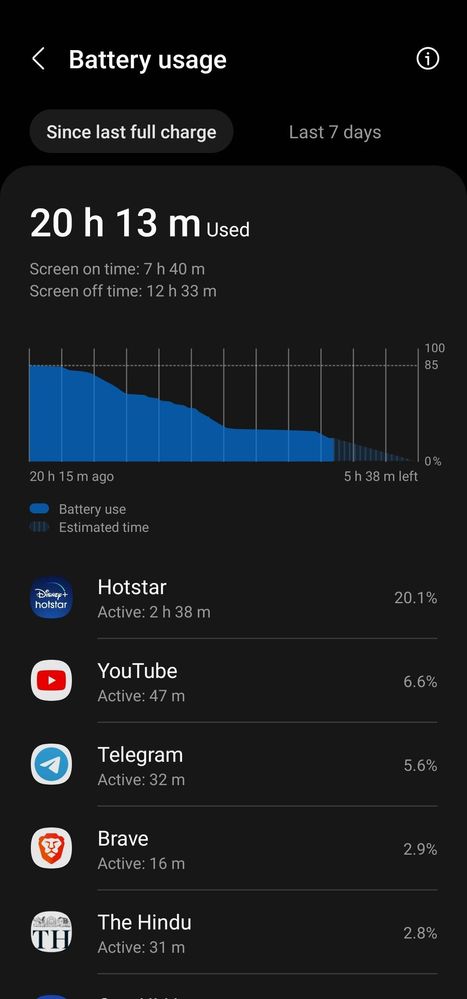 Android 12 - 85 to 20 percent
Android 12 - 85 to 20 percent
Nb: THE ANDROID 12 ONES ARE FROM 85 TO 20 WHILE THE ANDROID 13 ONE IS FROM 100 TO 20.