How do I use Bixby with my TV?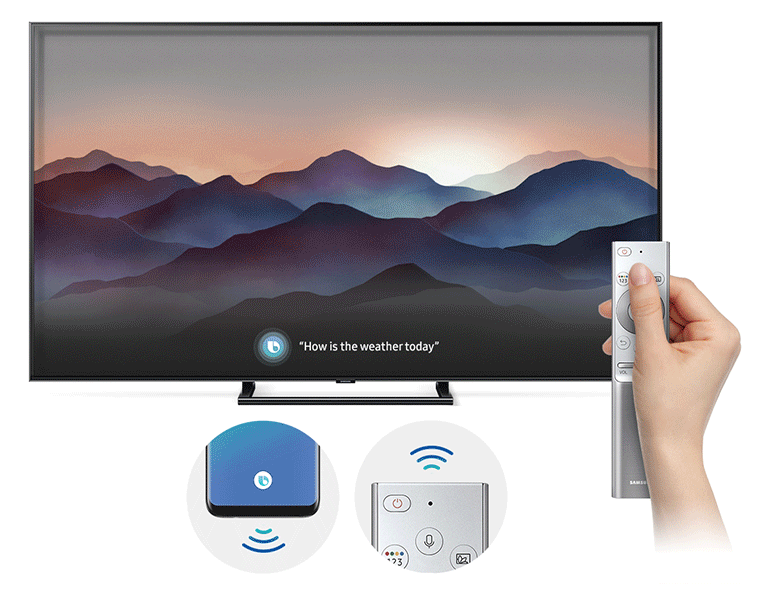 The Bixby intelligent assistant makes it easy to control your important devices in an intuitive and hands-free way. Bixby for the TV has been designed to enhance your entertainment experience, minimising your time spent navigating through menus and maximising your time with the shows you love.
Bixby gathers information from all devices connected to the TV, analysing the content and channels that you watch to deliver a personalised experience. Use Bixby to change your settings, find out what music is playing in the background of your favourite show and what the weather will be like tomorrow, all with one click of a button.
*Please note: the Bixby function is only available on certain models. Bixby was first introduced to Smart TV's in 2018, if your TV was manufactured before this you will not be able to use Bixby on your device
Bixby can be activated in two ways, through your voice or through the microphone button.
How do I activate Bixby with my voice?
Activate Bixby by saying 'Hi, Bixby.' The Bixby icon will appear at the bottom of your TV screen to show you that Bixby has activated listen mode. If Bixby doesn't react to your voice, follow the steps below to turn on the Voice Wake-up function, then try again.
1-Press the microphone button on your TV remote
2-Select Explore Now
3-Select Settings
4-Select Voice Wake-up

How do I activate Bixby with my TV remote?
To activate Bixby with your TV remote, press and hold the microphone button, say a command, then release the microphone button.